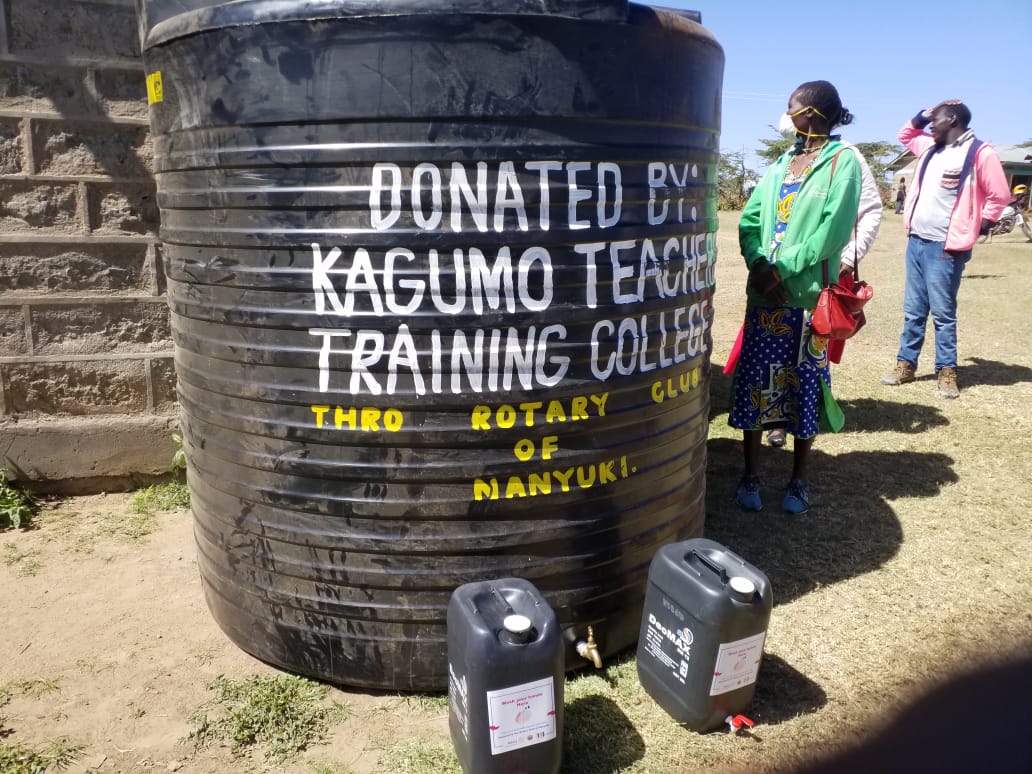 KAGUMO TEACHERS TRAINING COLLEGE CSR IN LAIKIPIA NORTH
Kagumo Teachers' Training College engaged in a CSR activity in Dol Dol, Laikipia North Sub County on Sunday the 13th of December 2020. The activity aimed at supporting schools to enhance water and sanitation hygiene and also, environmental awareness through a tree planting exercise. The invitation to participate in the CSR came through the Rotary Club Nanyuki and the college was represented by members of the Amani Club.
The college donated fruit trees and two water tanks with a capacity of 5,000 litres each. One tank was donated to Ole Kinyei Primary School and the other to the farming community at Arnjiju Primary School located within Mukongondo forest.
Other participants in the CSR included Kenya Water Towers, National Environmental Complaints Committee, Kenya Forest Service, Kenya Forest Research Institute, World Vision Imara Program, Boran Farm, NETFUND, NEMA and Ministry of Environment and Forestry represented by the Cabinet Secretary Hon. Keriako Tobiko, the Chief Guest.
Challenges affecting the local community, more so in accessing quality education were addressed. These included but were not limited to FGM, insecurity, deforestation, lack of alternative livelihoods, hygiene and lack of access to adequate clean water.
The local community will be involved actively in order to ensure sustainability of the intervention measures taken. An adaptation program will be drafted where the community will decide on what should be done in the forest, thereby increasing collaboration with the Kenya Forest Service which will help in the enforcement of the decisions reached. Six tree nurseries will be established in the region leading to hiring of ten casual workers. A demonstration garden will be put up to impart farming skills on the largely pastoralist community. Bee keeping will also be part of alternative livelihoods. Other intervention measures include a solar powered borehole for use by the schools and community, hand washing facilities to contain COVID-19, establishment of water piping system and fencing materials to safe guard the forest.
The Amani Club Kagumo was delighted to represent the college in the CSR activity and took advantage of this rare opportunity to articulate issues on Peace Education and Global Citizenship Education under Sustainable Development Goal 4.7. The Club greatly appreciates the kind gesture by the Chief Principal Mr. Francis Mwangi and the event organizer Ms. Margaret Lesuuda.
Kibe Runo – Patron, Amani Club Kagumo