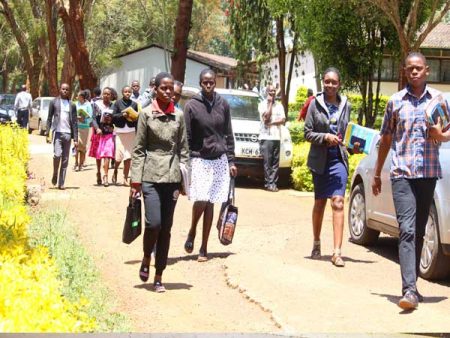 KAGUMO THE TRUE MENTOR-THE EXPERIENCE OF A FORMER STUDENT
Let me briefly introduce myself. I am Winnie Njoki Wanjiru. I joined Kagumo Teachers College in the class of ECRE on 9th September 2015. Currently, I am a trainer in a Technical Training Institute in Nyeri. Before joining the Institute I was teaching in high school after my graduation in October 2018.
LIFE AS A STUDENT
The thought of getting into the teaching career was and is still a lifetime passion and I am living my dream. I candidly accept that the path was not easy at all and the pressure was almost tangible. Headstrong, unyielding, resilient without exploring any alternative I forged on From the lectures, the assignments, the discussion groups and the co-curriculum activities. The program was intense but I had to hold onto it so as to taste the end fruits. I adhered to the laid down rules and regulations to the very end.
The exposure at Kagumo is exceptional. Throughout the semester, one needs to attend to the numerous assignments examinations, etc. In addition to that, I was a basketball player guided by my then able coach Mr. Oyaya. Juggling between studies and being a member of the team was not easy. The training was extremely intense especially when competitions were round the corner. I remember going to the field at or before 5am for practice… Through this I learnt self-discipline, teamwork and time management.
JOB DESCRIPTION
Talking of my job-I love my job for the opportunity it offers me to attend to  learners at various stages always offering my best. The range of activities is vast and cannot be described very precisely but the most fundamental of them all is equipping learners with desirable skills, knowledge and a positive attitude. I have created a conducive environment especially for the weaker and poorer students in my work station. It is not possible to meet all the demands, yet I try to do my best.
I like my job for the opportunity it offers to train new minds and serve in different capacities and to meet people from all walks of life and have an exposure to different cultures, languages, etc.
REQUIREMENTS FOR A TEACHER
Many of us still believe that academic qualification is all that matters but personal attributes are a  great concern too. Personal discipline is important for a teacher and it moulds one into a successful teacher.
ADVICE FOR STUDENTS
All those who are keen on making it successfully in the teaching fraternity must have  good reasons to be there. Sufficient time should be spent asking oneself 'why a teacher?' Only when a conviction is felt, should one venture into this noble field; one that deals directly with the hearts and souls and minds of young ones. There is of course,an element of destiny as well.
Best Wishes,
Winnie Njoki Wanjiru