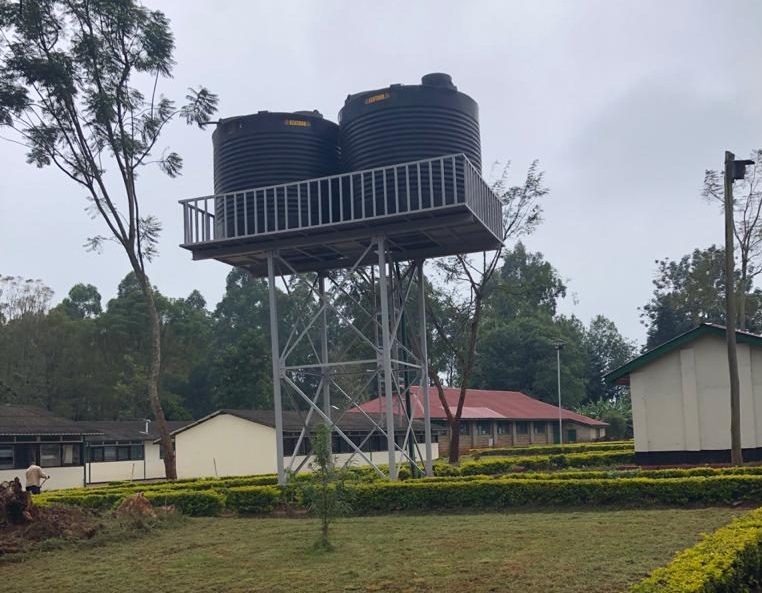 CLOSED, BUT WORK CONTINUES…
The world came to a standstill in the face of COVID 19. Institutions closed down, students were asked to go home where they could be safe. Teaching and non-teaching staff too retreated to their safe abodes to shield themselves from the dreaded virus. But, not for long. Just like in many other organizations and institutions, it was time to work from home and for those who could not, report to work on a rotational basis. Come June and all members of non-teaching staff were back, all except those who had pending leave days. Back to continue building the nation the best way they knew how.
Refusing to be cowered by the novel Coronavirus, infrastructural development in Kagumo College has continued unabated. It is true to say that when systems resume most probably in January of 2021 there will be a good number of changes to be observed. As the students and teaching staff stay away as per the Ministry directives, the top management and non-teaching staff have been holding fort to ensure that the College remains well maintained and is ready for resumption. A casual walk around the College will reveal members busy at their work stations, carrying on with their duties while ensuring social distance, wearing of masks, and increased hand hygiene. As a result, the College lawns and hedges remain well-trimmed and tended to. There is a definitely new look at the graduation square…the barbed wire is gone and the bougainvillea fence trimmed down giving it a fresh new look.
At the farm work continues with the College livestock being well tended to. Notably, the piggery now has four sows, a boar, and twenty-two piglets. The older mothers have been served and are due to furrow soon. New machinery; a milking machine and a feed mixer to prepare concentrates have been procured and these go a long way in making work at the farm more efficient.
The dining hall and kitchen now have a brand new terrazzo floor; modern and much easier to manage than the previous floor.
A good number of water storage tanks have been placed at strategic places within the institution to enhance a continuous flow of water. In addition, several hand washing stations have been mounted, each with a liquid soap dispenser and water tap controlled using foot pedals. These are all crucial in facilitating hand hygiene which is an important aspect of our 'new normal'.
The Library…absolutely fresh….the asbestos roof has been replaced with a bright red iron sheet roof which I dare say is the first different thing one notices as they go up the drive past the administration block. Inside the Library… carefully chosen ceramic tiles have been fitted giving the library which has weathered many years, a modern look. The rearrangement of reading spaces to allow for social distancing is also tidy and eye-catching and indeed has a pleasant effect.
A stroll to the dispensary reveals work in progress… artisans very busy at what they know best. What are they up to? Expansion of the dispensary to include a laboratory, a pharmacy, an expanded observation room as well as an improved consultation room. The thought of how it will look once complete is exciting.
The ladies too have something to look forward to. Their hostels are being renovated. In a few weeks' time, we are sure to witness a complete metamorphosis here. Apart from the hostels themselves the paths will be made wider and improved using cabro. No more tripping ladies!
The one thing on the strategic plan that may have seemed a bit difficult to accomplish is actually on course…a perimeter wall. As of now all trees that are in the way of the wall have been marked and are to be felled for use as timber and firewood within the College. The erection of the wall will go hand in hand with the construction of a modern gate and sentry. This will include an ablution and a changing room too. There is hope that these works will commence soon.
Clearly, the administration has taken the opportunity presented by COVID 19 to embark on renovations that would have been tricky to accomplish while learning is in session. We appreciate the milestones in the 2018-2023 Strategic Plan; The targets therein outlined are steadily being accomplished and we thank the Board of Management and the Administration for the tremendous change witnessed in the College in recent years. We also acknowledge the evident effort put towards ensuring that the College is ready for reopening when the Ministry of Education says so.
Susan Wanjohi